Tablao Flamenco Villa-Rosa


Photos of Tablao Flamenco Villa-Rosa.
The Tablao Villa Rosa is one of the most traditional establishments in Madrid. It was a grocery store and flamenco tablao during the 20th century.
The Tablao Villa Rosa is located in the Letras district, between Calle Álvarez Gato and Calle Núñez de Arce. The ground floor of the façade of this tablao is decorated with colourful tiles by the Sevillian Alfonso Romero Mesa. These tiles depict Spanish cities.
This legendary tablao has been visited by top artists such as La Niña de los Peines, Bernardo de los Lobitos, Juan Gandulla "Habichuela", the brothers Luis and Antonio Molina, Lola Flores, Imperio Argentina, Antonio Mairena and Pepe Marchena.
This tablao has been visited by personalities such as King Alfonso XIII, the writer Ernest Hemingway, the bullfighter Luís Miguel Dominguín and the actress Ava Gardner.
It had its golden age during the first third of the 20th century, especially in the 1920's. It was closed on several occasions throughout its history. In 1996 it was restored and reopened as a tablao and restaurant.
History
In 1911 the banderillero "Alvaradito" and the picaores Farfán and Céntimo founded a bar.
Seven years later, it became a restaurant.
The following year Antonio Torres and Tomás Pajares, waiters at a nearby bar, renovated it in the "Andalusian Arabic style", with coffered ceilings, lobed pointed arches and a wooden work counter.
The tiles stand out, especially the interiors, which were attributed to the workshop of Ruiz de Luna and Julián Santacruz. Also noteworthy are the tiles with landscapes that decorate the exterior façade, the work of Alfonso Romero (1927).
In 1921 this venue began to function as a tablao. Antonio Chacón left the tablao Los Gabrieles and moved to Villa Rosa. The new stage began with a party organised by the Conde de los Andes, a good aficionado, in honour of Chacón. He was accompanied by the great guitarist Ramón Montoya and the cantaor Manolo Pavón.
In 1963 the tablao closed and reopened in 1964 until the 1970s, without its former splendour. In the 1980s it was converted into a nightclub. Pedro Almodóvar used it as a set for his film Tacones lejanos (High Heels).
From 2002 to 2009, in addition to being a nightclub, it reopened as a tablao.
Two years later, the businessman Jesús Rodríguez Cerezal turned it back into a tablao-restaurant.
Practical Information
Location
Plaza de Santa Ana, 15
Madrid

View map
Book other flamenco shows in Madrid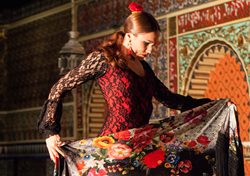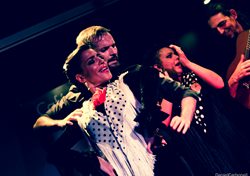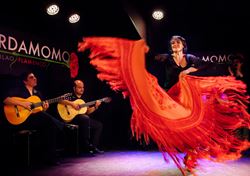 Cardamomo Tablao Flamenco