Zambra María La Canastera


Photos of Zambra María La Canastera.
The tablao Zambra María La Canastera is located in the cave-house of the bailaora María Cortés Heredia, known as "La Canastera".
María La Canastera was a well-known bailaora and cantaora (flamenco dancer and singer), whose father made baskets. Today there is a statue in her honour in the boulevard of Avda. Constitución (Granada). She was born in Granada in 1913. She started out as a dancer in the typical zambras of Sacromonte. At the age of 19 she was already well known in the world of flamenco.
María and her family lived in this cave house. It was open to the public for many years. The living room was transformed into a gypsy zambra dance floor. Today, it is maintained and preserved by her son Enrique. Two rooms and the kitchen are preserved in their original state, and are now considered a cultural museum as an example of a cave dwelling in Granada.
María la Canastera organises her flamenco shows in an intimate and familiar atmosphere, with traditional songs and dances from Sacromonte. In addition, María's descendants now perform following in her footsteps.
Practical information
Capacity: 60
Disabled people's access: Yes
Location
Camino del Sacromonte, 89
Granada

View map
Book other flamenco shows in Granada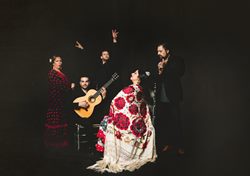 Casa Ana - Flamenco Theatre - Tablao