El Templo del Flamenco
Photos of El Templo del Flamenco.
El Templo del Flamenco is located in the heart of Albayzín neighbourhood in Granada, which was declared a UNESCO World Heritage Site. A neighbourhood which has preserved its old framework of narrow streets and typical houses and offers breathtaking views of Alhambra and the whole Granada.
This tablao was opened in 2012 in the largest cave of Granada. Legend has it that this cave was a former temple. A large place with three areas in form of a crossing.
The stage is located strategically in order to offer a perfect view from each corner of the venue. When the building was remodeled, historical and typical features of the cave were respected. They also tried to create an air of elegance so that visitors enjoy a unique venue.
Practical Information
Capacity: 160
Disabled people's access: Yes
Location
Calle Pernaleros Alto, 41
Granada

View map
Book other flamenco shows in Granada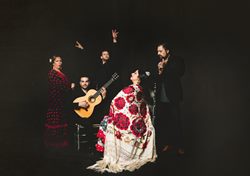 Casa Ana - Flamenco Theatre - Tablao