Cueva de La Rocío
Photos of Cueva de La Rocío.
Cueva de la Rocío is one of the first gypsy "zambras" at Sacromonte neighbourhood in Granada. It was founded by Mr. Andrés Maya Fajardo and Mrs. Rocío Fernández Bustamante in 1951.
This tablao is still managed by the Maya family, one of the most important dinasties in flamenco. La Cueva de la Rocío has two different caves together with a large terrace with excellent views of the Alhambra and the Generalife.
What makes Cueva de la Rocío different is its family and welcoming character, showing both professionalism and seriousness, and that's why they have received important awards such as "Prestigio Turístico 2010."
In the last few years they have received different celebrities such as the First Lay of The United states Michelle Obama, the previous King and Queen of Spain, Juan Carlos and Sofía together with the ex-president of the United States, Bill Clinton.
Practical Information
Capacity: 150
Disabled people's access: Yes
Location
Camino de Sacromonte, 70
Granada

View map
Book other flamenco shows in Granada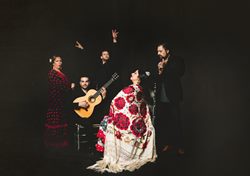 Casa Ana - Flamenco Theatre - Tablao