Flamenco at Palacio de los Olvidados


Photos of Flamenco at Palacio de los Olvidados.
Palacio de los Olvidados of Granada is a space for both the Sephardic culture and flamenco.
It is a sixteenth century palace (Palacio de Santa Inés) and one of the few buildings in the Albayzín which were occupied by the aristocracy of the time and are in perfect condition. This palace is located on the Cuesta de Santa Inés, along the Carrera del Darro, at the foot of the majestic Alhambra. Its origin may be due to a converted Jewish, which erased the traces of his Sephardic lineage. A culture that this palace will today honors, thanks to the large collection of Crespo Lopez family, and to the various cultural activities for both adults and young audiences.
This unique setting offers every night a special flamenco show.
Practical Information
Location
Cuesta de Santa Inés, 6
Granada

View map
Book other flamenco shows in Granada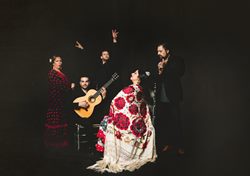 Casa Ana - Flamenco Theatre - Tablao